White McCoy and USA pottery...a whole collection! A wonderful find....
The power of a single color collection! What a great statement these pottery pieces make together.
Wonderful details....
Sweet animals...
Look for it all @ the spring sale!
Now, to my challenge for the week!
Somewhere along the way, I had purchased these new wooden architectural pieces. Now I love anything architectural in nature and these fit the bill. I knew I could do something to improve them a bit.
Then I remembered why they looked vaguely similar...I already had this piece on my wall.
And I wondered...could I make these new pieces look old? ( this piece is not old by the way, but it has that great aged look!)
So, I had to give it a shot!
First I stained the wood. This was very time consuming because of all the detailing of the wood, but well worth the effort.
Then I painted them with Annie Sloan's Chalk paint in Old White.....I didn't completely cover them, I wanted the stained part to be scene also.
Then I sanded the paint and rubbed them over with dark wax...
And I was pleased with how they turned out!
The details show up really great with all those layers!
They looked cool as bookends also.
I know you can tell by the size which one is off my wall,but I thought they looked pretty close!
From new to old looking in just 3 steps...
I'm partying with these gals today: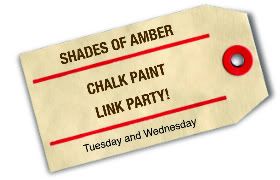 Pin It